Arctic sea ice appears to have reached its annual minimum extent on 10 September. The trend of decreasing sea ice is continuing, this season the ice extent was the third-lowest in the satellite record, after 2007 and 2008. The image below is courtesy of the
National Snow and Ice Data Centre
.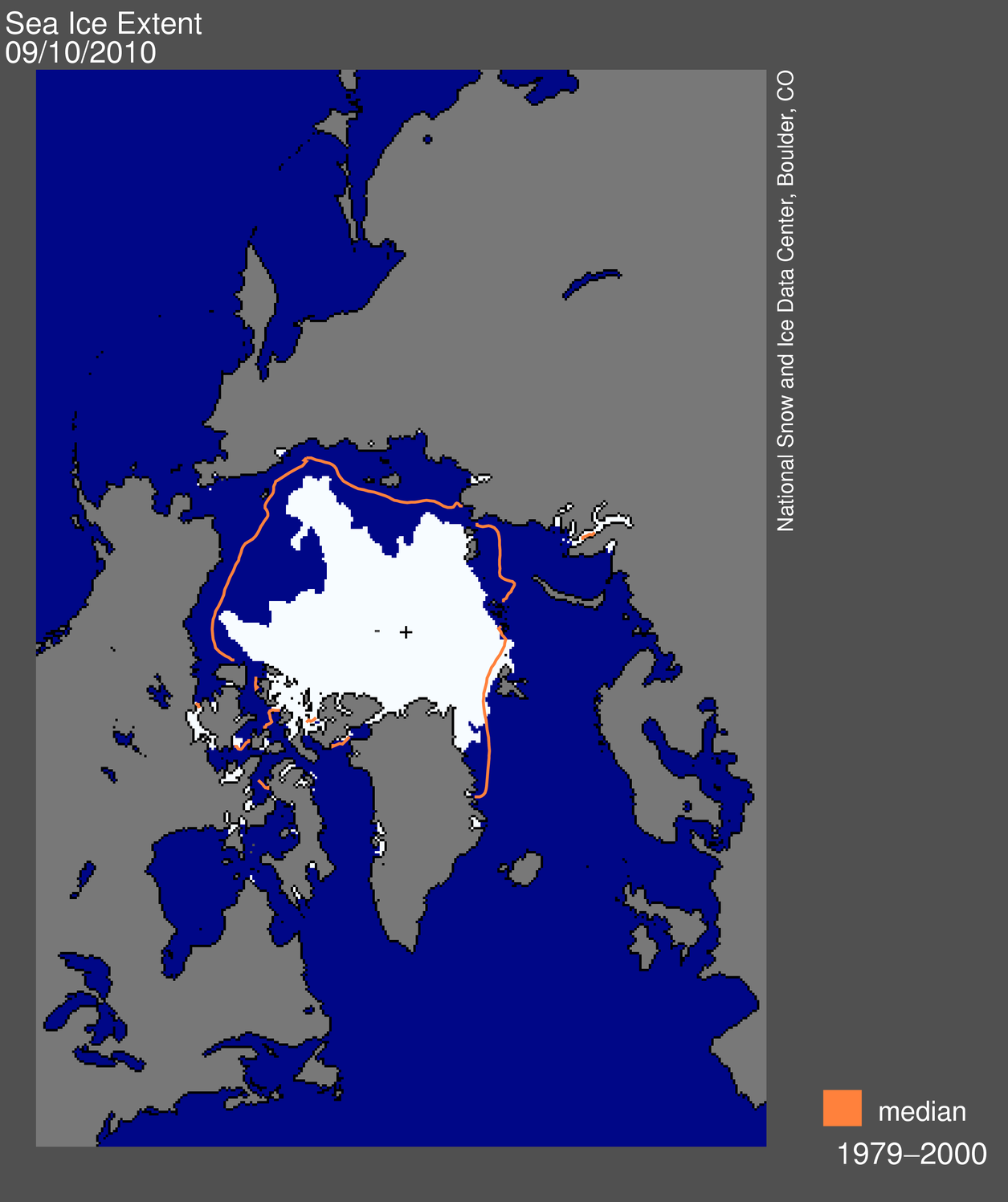 The ramifications of decreasing sea ice in the Arctic are important for Arctic states and will have global impacts. Decreased sea ice may open up long sought
trade routes
'across the top of the world' for example connecting northern Europe with Japan and China via the
Northern sea route
across Russia. In addition the retreating ice opens opportunities for oil and gas exploitation, new fisheries, and tourism in the Arctic. The potential economic gains could have major impacts on the Arctic marine ecosystem and northern indigenous communities.
On September 10, 2010 sea ice extent dropped to 4.76 million square kilometers (1.84 million square miles). This appears to have been the lowest extent of the year; sea ice has now begun its annual cycle of growth.
The 2010 minimum ice extent is the third-lowest recorded since 1979. The 2010 minimum extent is 240,000 square kilometers (93,000 square miles) above 2008 and 630,000 square kilometers (240,000 square miles) above the record low in 2007. This is 340,000 square kilometers (130,000 square miles) below 2009. The 2010 minimum is 1.95 million square kilometers (753,000 square miles) below the 1979 to 2000 average minimum and 1.62 million square kilometers (625,000 square miles) below the thirty-one-year 1979 to 2009 average minimum.
For the full report and analysis, including the conditions in their climatic context, see the NSIDC
Arctic minimum site.