Climate change has been described as an existential threat to coastal and marine ecosystems and communities. Close to half of the world's population – and 45% of economic activity - is located in proximity to the coastal zone with population growth and development projected to accelerate into the 21st century. Coastal systems in particular are under threat facing the twin trajectories of development and population pressure whilst being at the forefront of climate impacts. While coastal systems are hubs of social, economic and cultural activities and importance, the emergence of integrated responses to climate change has been limited.
IPCC projections for CO2 emissions
In 2013, the
Intergovernmental Panel on Climate Change (IPCC)
concluded that warming of the climate system is unequivocal, human influence on the climate system is clear; and limiting the risks will require substantial reductions of GHG emissions. The assessment highlighted that CO2 concentrations are at their highest concentration for 800,000 years [IPCC FIG] with 90 per cent of the heat being absorbed by the oceans. Current trends suggest that a 4°C rise is likely on current trends by the end of the century (IPCC 2013) - double the internationally agreed target of 2°C.
Global sea level
has risen by 20 cm since the 1880s with the rate of increase rising to 3.2 mm/yr. The advent of ocean acidification and altered hydrology will impact productive habitats such as coral reefs, seagrasses and mangroves which could disappear when ecological thresholds are exceeded and undermine critical ecosystem services that support economic, social and cultural activity.
In parallel to the challenges facing marine environments significant potential exists in addressing the challenges set by climate
mitigation and adaptation
. While the primary response to climate change is driven at a global level through the
UN Framework Convention on Climate Change
process, this is inevitably bound up in regional, national and local legal, policy and economic drivers and debates. The trajectory and effectiveness of the 'low carbon response' is one that can be explored through the understanding the intersection of policy fields such as energy security, climate policy, industry and innovation strategy, planning and the interaction with actors from government, industry and civil society. The emergence of conceptual approaches such as the 'blue economy', 'blue growth' and the 'green-blue economy' indicate a growing interest in this field, but the various definitions are ambiguous over the extent of the influence of green economy or the cleaner production principles embedded within the strategies. Often traditional 'brown' sectors (e.g. oil and gas) are included in blue economy frameworks, diluting the emphasis from a low carbon economy in favour of maximising maritime growth and employment. National strategies tend to exhibit a tension over the extent of incorporating well established sectors that can be considered as business usual versus the promotion of emerging low carbon and green sectors. The phrase 'have your cake and eat it too' very much applies to thinking on the blue economy!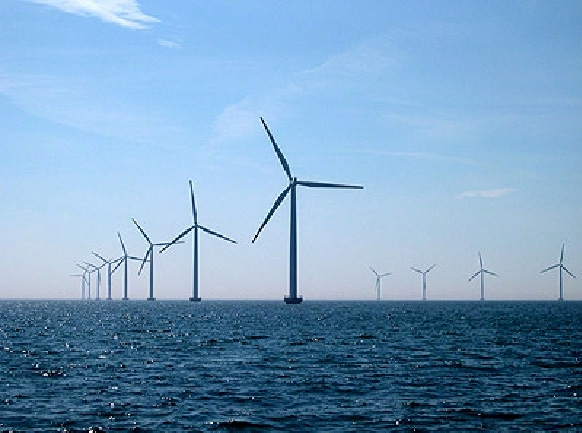 While nations are currently accounting for both traditional and emergent sectors of the blue economy, there appears to be shift in some regions to developing low carbon strategies tailored to coastal and marine systems. This includes mitigation strategies that reduce emissions or increase sequestration, and adaptation strategies that improve the ability of sectors and societies to adapt to changing conditions. In terms of coastal sectors, developments in ocean renewable energy, green ports, carbon capture and storage, eco-tourism and biomass and food production are growing areas of interest. So too are initiatives that conserve and restore coastal habitats for the purpose of carbon sequestration (blue carbon) and maximising ecosystem services. The convergence of marine spatial planning, energy security and climate change raises considerable challenges and opportunities for coastal regions.
Understanding these patterns in the regional and national context is the basis of a new collaboration between the University of Wollongong (Australia) and the University of Aberdeen (UK). A recent workshop 'The intersection of the low carbon and blue economy: perspectives, issues and governance' was held on the 3rd of June to explore the issues surrounding the concept of a blue low carbon economy. The workshop focused on PhD students working on or interested in coastal and marine climate issues, with discussions around the topics of ocean renewable energy, energy security and blue carbon. Seminars included (note seminars will soon be available to download):
Dr Tavis Potts, University of Aberdeen, Department of Geography & Environment
. '
Blue Low Carbon Economies – A Framework for Navigating Practice and Uncertainty.'
Professor Clive Schofield, Australian National Centre for Ocean Resources and Security
, University of Wollongong. '
Energy Security and the Oceans: Prospects for Turning the Blue Economy from Black to Green'
Dr Kerrylee Rogers, School of Earth and Environmental Sciences
, University of Wollongong. 'Coastal wetlands and the intersection of climate change mitigation and adaptation.'
Professor Richard Kenchington, Australian National Centre for Ocean Resources and Security
, University of Wollongong.
'Blue Carbon, Payments for Ecosystem Services:Seeking a Blue Carbon Market.'
Topics discussed included:
A conceptual framework for assessing blue low carbon economies across industry sectors; political economy; innovation and training; MSP; energy and climate law / policy; & ecosystem services;
Case study on Scotland's 100% renewable energy target; ocean renewable energy development and MSP;
Energy security discourse in E & SE Asia: fossil fuel dependence; maritime economy and renewable energy developments;
The ecosystem services that are provided by coastal systems; blue carbon in the Hunter River and adaptive capacity of coastal systems to climate stressors.
Policy and ecosystem management responses to coastal system squeeze from sea level rise, development and geomorphology.
Monetary evaluation and pricing of blue carbon ecosystem services for carbon sequestration; payments for ES; feasibility of REDD+ to apply to coastal systems and blue carbon.